Data:
22 Ianuarie 2020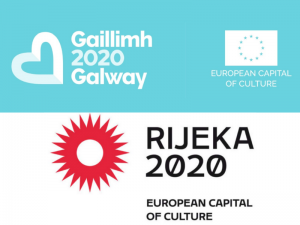 Începând cu data de 1 ianuarie 2020, Rijeka (Croația) și Galway (Irlanda) dețin titlul de capitale europene ale culturii pentru un an.
Rijeka este primul oraș din Croația care deține acest titlu. Având ca motto "Portul diversității / Port of Diversity", programul cultural al orașului Rijeka se concentrează pe teme precum apa, munca și migrația, identitatea orașului, dar și pe o serie de probleme actuale din întreaga lume. Festivitățile oficiale de deschidere vor avea loc în perioada 1-2 februarie 2020.
Galway este al treilea oraș din Irlanda care deține acest titlu, după Dublin în 1991 și Cork 2005. Motto-ul programului cultural Galway este "Lasă magia să intre/Let the Magic In" și urmărește să îmbine teme locale referitoare la limbă, peisaj și migrație cu teme europene și universale relevante. Galway 2020 va începe în februarie 2020, odată cu Imbolc, sărbătoare celtică din calendarul antic precreștin al Irlandei. Programul cultural se va derula în jurul festivalurilor celtice Imbolc, Bealtaine, Lughnasa și Samhain.
Inițiativa capitale europene ale culturii a fost inaugurată în 1985 și urmărește să evidențieze bogăția și diversitatea culturii din Europa, având un impact pe termen lung, nu numai asupra culturii ci și din punct de vedere social și economic.
Mai multe informații: